All bookings are taken on our on-line booking system here (for use on a computer)
Or download the app here : Android Apple
Please choose your preferred time and then select the number of slots you require. Please also add a note to advise if the horse(s) are debutantes or have known stalls issues.

Each trials morning consists of 3 divisions starting from 08.05 through to 11.20. Slots are at 25 minute intervals.

Division 1 : 08.05 - 08.55
Division 2 : 09.20 - 09.45 (for horses with known issues)

Division 3 : 10.30 - 11.20
Each slot is limited to 10 horses which are grouped according to experience, any with known stalls issues will be placed in division 2.
The price for each horse is £120.00 + VAT maximum based on 20+ horses per session. This covers the costs of staff for Veterinary cover, Paramedic attendance, stabling & of course the Stalls team with Witheford Equine included. Horses are allowed to gallop afterwards.

Due to the complex planning required for each trials, all bookings are payable by BACS 48hrs prior to each trials. This is non-refundable due to the third party commitment required for each session.
Please be advised that a scan of the passport cover page and vaccination age for all horses attending the trials will be required 48hrs in advance of the day. Passports must also be brought to the trials.
All trainers will be required to agree to the respective Racecourse Terms and Conditions which are available to download here for LINGFIELD and here for WOLVERHAMPTON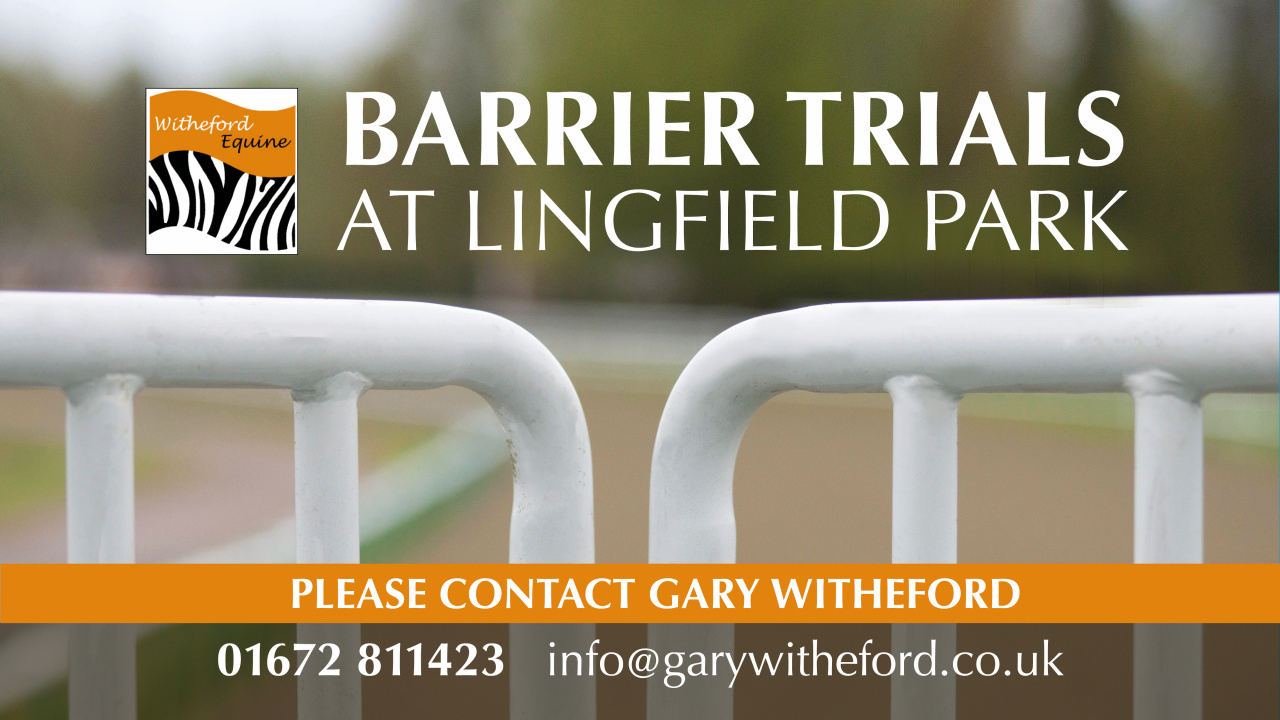 NEXT DATE :

To be advised

NEXT DATE :

To be advised

Please note - by using our online booking form you permit us to collect and retain your contact details for future use. If you do not wish us to retain your contact details please do not submit this form, trials info can be obtained by emailing us at
info@garywitheford.co.uk
"Thanks to @GaryWitheford who loaded her yesterday. The time and effort spent at Gary's and at @LingfieldPark #ukbarriertrials last month a huge factor in her performance yesterday - the man is a genius"
Henacre Racing (via Twitter)
"Lovely win from Running Cloud @WolvesRaces for @rosemeirion. Another success for horses from barrier trials @GaryWitheford #woodway #winners."
Eve Johnson Houghton (via Twitter)
"A good mornings work barrier trials @LingfieldPark with @GaryWitheford @CWitheford I can't emphasise enough the amount of good these days do. A lot of hard work and effort from these guys. Horses went great today can't wait to run them."
Paul George (via Twitter)